Why Hospitals are Making the Switch to Closed System Catheter Kits
Reducing hospital-acquired infections, such as CAUTI, is a major concern for infection preventionists in hospitals across the country.
While many hospitals utilize foley indwelling catheters for bladder maintenance of post-surgical patients, many are making the switch to intermittent, or in-and-out, catheterization as a preventative measure to improve infection control and reduce CAUTI.
When hospitals switch to intermittent catheterization, most utilize standard intermittent insertion tray systems, however, this is not the most efficient catheterization method for patients who require bladder maintenance.
In today's post, we will go over the benefits of using touchless intermittent closed system catheter kits for bladder maintenance and why your facility should make it the standard of care.
Improved Infection Control and Reduced Risk of CAUTI
Switching to closed system catheters has been shown to have a 50% reduction in UTI rates when compared to open urethral insertion tray systems.
Intermittent closed system catheters are pre-lubricated, ready-to-use catheters in a self-contained collection bag, protecting the catheter from cross-contamination. To further improve infection prevention, our closed system catheters feature a soft medical-grade silicone introducer tip designed to be passed beyond the contamination in the distal urethra, where 90% of bacteria is found.
Improved Nursing Efficiency
Facilities that have switched to the MTG EZ-Advancer® closed system catheter have reported improved nursing efficiencies compared to foley or urethral insertion trays due to requiring fewer steps for sterile catheterization.
Catheterization using foley and urethral insertion tray systems requires lengthy preparation for a sterile procedure. Trays typically include additional components such as lubricant, syringe, forceps, rayon balls, iodine sachet, and a specimen container. These are not necessary when using touchless intermittent closed system catheters.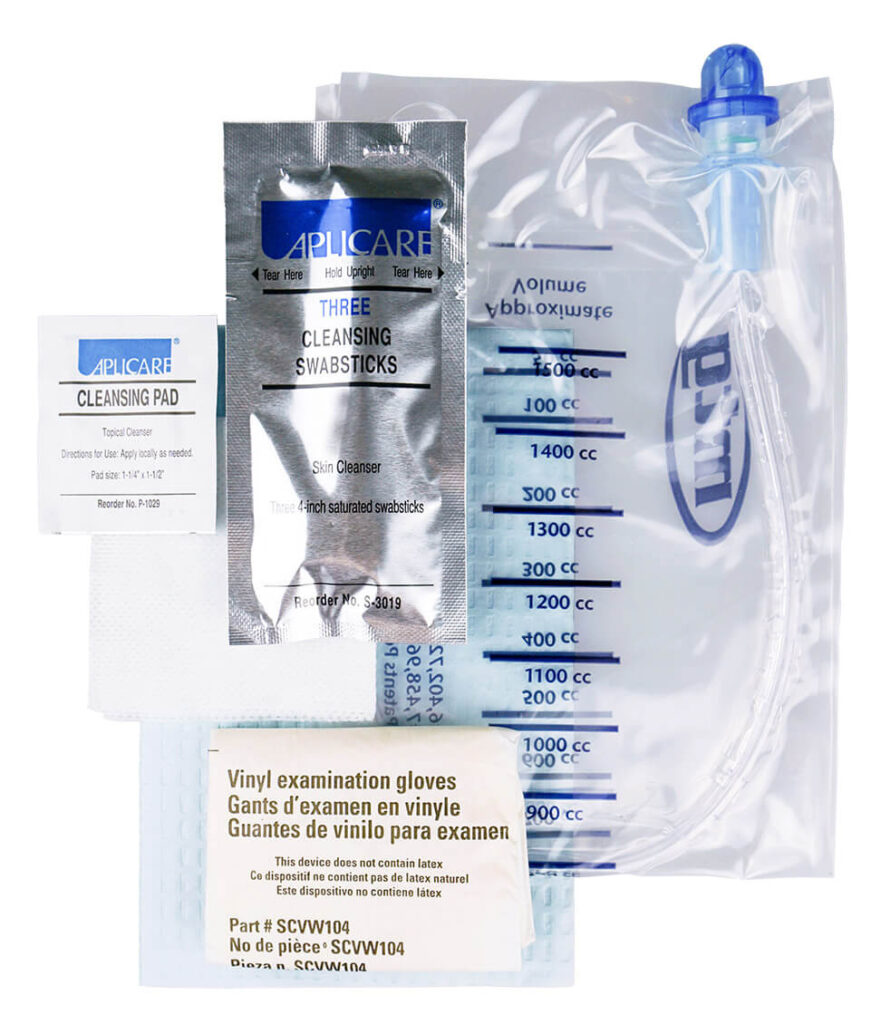 The MTG EZ-Advancer® intermittent closed system catheter kits are a third of the size of insertion trays and supply everything you need for the intermittent catheterization of a patient. Not only is less storage space required for MTG kits, but nurses can streamline the sterile catheterization of a patient and reduce waste.
Inserting catheters is part of routine nursing skills, but like any procedure, inserting a closed system catheter takes practice. If your facility is interested in scheduling a training session with our trained medical professionals, please contact us today.
Easy Sterile Sample Collection
Collecting a sterile urine specimen has never been easier. Simply extend the catheter to the top of the bag to remove the catheter and introducer tip with a gentle pull. A sterile specimen can be retrieved by pouring into a specimen container.
Additional benefits to switching to MTG Closed System Catheters include:
Reduced risk of spillage compared to open tray systems
1500 ml large capacity collection bag
Kits include 3 prep swabs, cuffed gloves, underpad, and gauze pad
Latex-free
Available in 8-16 FR sizes
If your facility is interested in making the switch to intermittent closed system catheter kits, contact us today to learn more about MTG Catheters and to request free samples.